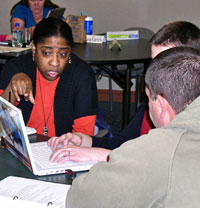 Empowering Education works with organizational leaders to facilitate selection or design of programs that effectively address educational opportunity gaps.
Program Development Process
Empowering Education consultants use a strategic planning process to to help clients identify their existing strengths, needs, and goals; then, facilitates program design, implementation, and evaluation.

Embedded Program Evaluation
Empowering Education builds evaluation into each phase of program development to increase the likelihood of strong implementation that is sustained across time.
EE engages in program development and evaluation for the purpose of empowering people to:
Improve student outcomes through effective program design
Hone skills in collaborative strategic planning for system improvement
Take desired system improvements to scale
The cycle of improvement and expansion is clearly informed by engaging in evaluation of participants' reactions, their learning, the development of organization supports, implementation of new practices that reveal increased professional knowledge and skills, and positive impact on student outcomes."
Stollar, Schaeffer, Skelton, Stine, Lateer-Huhn & Poth
Best Practices in Professional Development: An Integrated Three-Tier Model of Academic and Behavior Supports in Best Practices In School Psychology V Eds.Alex Thomas and Jeff Grimes 2008