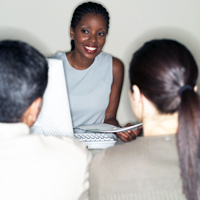 Empowering Education uses a strength-based collaborative consultation approach.
Because EE consultants take a strength-based approach, clients are supported to identify and build on their own internal assets to solve problems or change practices.
EE consultants are committed to helping clients identify internal strengths, maximize assets, and integrate evidence-based practices. This allows clients to leverage resources toward accomplishing a vision of equity and excellence for all.
EE consultants understand that sustainable results require a collaborative approach that include changes in policies and practices within organizations.
---
For more consultation about our professional development services, please contact us at: [email protected].