Philosophy and Mission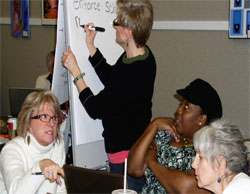 We believe that the capacity to achieve visionary transformation rests largely on the extent to which individuals or organizations are able to comprehend and maximize internal and external assets. We understand that empowered individuals and organizations operate from a position of strength and believe they are able to shape the future, while effectively addressing the needs of the present.
The mission of Empowering Education is to provide professional development, collaborative consultation and materials that empower educational systems.
We believe we can help build the capacity of educational systems to achieve their own goals for improving student success and leave the organizations we work with, securely positioned to sustain high outcomes.
Our Purpose
Empowering Education consultants are committed to helping organizations identify internal strengths, maximize assets, and integrate evidence-based practices leveraging resources in order to accomplish a well articulated vision and mission toward closing opportunity gaps and raising the achievement of all students. We understand that providing effective products, services, and supports for improving child and family serving educational organizations is a vital function in the community. While meeting this need within the educational arena, we generate material and social benefits to our: clients, consumers, founders, employees, and sub-contractors.